Welcome to Global Hospital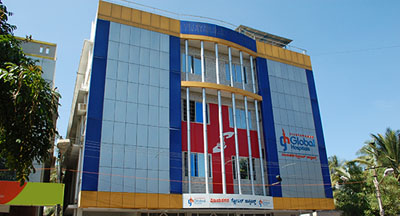 Experience a world-class healthcare at Global Hospitals which comprises of the premium brand healthcare assets that are considered the most prestigious in the world. Our strong track record has garnered an impressive reputation to deliver quality healthcare through the life-changing and life-saving patient care and experiences. Global Hospitals operates a chain of multi-super specialty hospitals offering the tertiary and quaternary healthcare services with 2,000 beds and state-of-the art, world class hospitals located at Hyderabad, Mumbai, Bangalore and Chennai. We have been providing you with updated and most comprehensive information regarding the general healthcare topics, the treatment of chronic or advanced medical conditions or assistance for your healthcare needs. Besides the tertiary care services, we also offer quality standards and healthcare innovations which help you in your decision making process.

Global Hospitals offers a comprehensive multi-organ transplant services in the country. We aim to strengthen and expand our leading market position as a destination for the multi-organ transplant of our patients from India, Africa, Middle East and South East Asia. We are committed to further our aspirations to make the quality health care more accessible to all. We are quite fortunate that our existing cohort of surgeons and consultants are leaders in their fields and considered as iconic figures in the medical fraternity.

Our Belief
We believe in a very simple, yet powerful concept of healthcare i.e. collaborative & compassionate care at Global Hospitals. And this belief has driven us to meticulously weave all the set of activities into our healthcare delivery process.

Our patients are at the center of consideration and hence we administer healthcare with certain principles, which includes:

Involvement of all stakeholders including the patient

Transparency at every step of care to help informed decision making

Seamless collaboration throughout the process of treatment and cure

Providing an experience of care at home away from home, at our facilities
Today Our Vision Is a Reality
Global Hospitals began with a vision of Dr. K Ravindranath to have a unique centre wherein complex multi-organ transplant programs could be executed at affordable prices. He has brought together some of the world's leading clinicians, the compassionate caregivers and the most advanced technologies available to provide world class care. He had dreamt of a centre of excellence which was unparalleled in the patient and caregiver experience. And today, Global Hospitals has made its presence in different locations across the country with tertiary care and quaternary care centres.

Due to increasing number of hospitals in India taking our lead, we are certain that the healthcare will never be the same not only for Indians seeking advance medical care but also for the thousands of international patients from across Middle East, Africa, CIS & SAARC countries.

Our Approach to Care Is Unmatched
You will experience a new approach to patient care and patient experience at Global Hospitals. We do what it takes to ensure that every patient and their kin receive personalized and compassionate care. We give our clinicians, clinical support staff and nurse the support they need to ensure that patient care remains their top priority. Our advanced treatments cover various disciplines such as orthopedics & joint replacements, gastroenterology, neurosciences, cardiac sciences, urology and nephrology, Hepatobiliary and liver diseases, organ specific cancer care, trauma and emergency care, critical care and Pulmonology, minimal access and bariatric surgery and other specialities.

At Global Hospitals, we are committed to deliver your health aspirations
Our Vision
To be the global leader in value based integrated healthcare. When we provide the best quality patient experience, everything else will take care of itself. To top it up, our people are called to do their best to achieve the highest quality care to those entrusted to us.
Our Mission
To make a difference in people's lives through excellent patient care. Our sights are set to establish ourselves to be the leaders in offering seamless and comprehensive healthcare of the highest quality, based on specific values as well as to focus on creating and maintaining value for our patients, people and shareholders.

Our Values
People: Our people (doctors and staff) allow us to serve people (patients and the larger community) to the best of our abilities.

Excellence: At Global Hospitals, excellence is a way of life as we are committed to strive for the finest clinical services and operational outcomes.

Results: They are objectives we push ourselves towards it. They are milestones which help us understand the expectations of the people we serve.

Compassion: It forms the core of our patient and family centered approach to deliver personalized and humanized care.
Our USP's
Patient-Centric

Innovation-Driven

Technology-Embracing

Privacy-Conscious