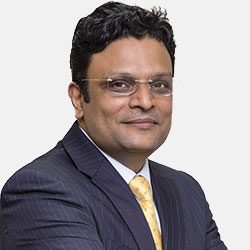 Orthopaedic Surgery
Contact Number: + 91 – 9860432255
---
Designation: Consultant – Orthopaedic Surgery
Specialty: Orthopaedic Surgery
Location: Bengaluru
Nationality: Indian
Languages spoken: English, Hindi
Gender: Male
Education
Diploma in Orthopaedics – Kasturba Medical College, 1997
DNB – Orthopedics – St John's Medical College, Bangalore, 1999
MRCS (UK) – Royal College of Physicians and Surgeons (RCPS), Glasgow, 2005
Experience
2011 – 2015 CONSULTANT ORTHOPAEDIC & JOINT REPLACEMENT SURGEON at BGS Global Hospitals
2010 – 2011 ZIMMER LOWER LIMB ARTHROPLASTY FELLOW (Revision Hip and Knee Arthroplasty) at Leeds & Bradford Teaching Hospitals NHS Trust Bradford, UK
2009 – 2010 DEPUY LOWER LIMB ARTHROPLASTY FELLOW (Computer Assisted Joint Replacement) at Leeds & Bradford Teaching Hospitals NHS Trust Bradford, UK
Medical Registration Verified
Dr. Basavaraj is a Specalist Joint Replacement Surgeon, based in Bangalore, India (Presently working at Bgs GLOBAL Hospital). He specializes in Hip and Knee Joint Replacement Surgeries including complex Primary and Revision Joint Replacements. He has over 20 years experience of having worked in various Premier Institutes in India & in U.K and he holds final specialist Orthopaedic degrees from both the countries.
He has done his Postgraduate Orthopaedic training at Kasturba Medical College, Manipal, India. He also has experience of working as a faculty at St Johns Medical College Hospital Bangalore, India for over 6 years.
He received British Council Sponsorship for higher training in Orthopaedics at U.K. He spent about 9 years in the UK gaining valuable experience in Joint Replacement Surgery of both Hip and the Knee. He has obtained two advanced fellowships in the fields of Computer aided joint Replacement and Revision Joint Replacement in the UK.
He has organized conferences on joint replacement surgery, which included live demonstrations. He has done podium presentation at various national and international Orthopaedic meetings. He has been invited as faculty in several conferences. He has written scientific articles on lower limb arthroplasty and limb reconstruction. He attends various CME sessions (including National and International) to keep himself updated on recent advances.
Dr Basavaraj routinely uses Computer assistance for all the knee replacements.
Dr Basavaraj practices accelerated rehabilitation (rapid recovery) after both hip and knee replacements which can lead to early functional recovery and improved patient satisfaction.
Services
Joint Replacement Surgery
Hip Replacement
Computer assisted joint replacement
Knee Replacement
Arthritis Management
Trauma Surgery
Elbow Replacement
Revision Hip and Knee Arthroplasty
Arthroscopy
Shoulder Replacement
departments
: Orthopaedic Surgery
positions
: Orthopaedic Consultant